| | | | | |
| --- | --- | --- | --- | --- |
| Cul de Sac | Restaurants | Hotels | Other | St Martin Map |
Cul de Sac, Anse Marcel, and Mont Vernon Photo Feature

Other Photo Features | SXM-Info
Head north off the main road from Orient Beach to Grand Case and one heads toward Cul de Sac, Anse Marcel, and Mont Vernon. Take the first right and you'll find Restaurant Taïtu and Sol é Luna Guesthouse. The guesthouse rises up the hill behind Sol é Luna Restaurant, regularly voted the most romantic restaurant on the island.
Continue down this road and you'll reach the old Mont Vernon Hotel which has been sold off into individual units, many of which are available for rent. They are at the extreme northern end of Orient Beach. Come back to the original road and head north (right) to pass by the pharmacy and several restaurants including Ti Bouchon. Ti Bouchon started to honor the bouchons of Lyon. They are small, intimate restaurants that offer generous helpings of country style foods, serve local wine in pitchers, and have a convivial, possibly boisterous, atmosphere. However, while it has remained small and intimate, the cuisine now rivals some of the better French restaurants in refinement as Thierry Delauney leads the kitchen staff.
Continue heading north and one reaches Cul de Sac. A right turn Cul de Sac will lead to the ferry that heads to Pinel. It's a great spot for a day trip. A few dollars and a few minutes on the ferry deposits you on an uninhabited island with two restaurants and good snorkeling. If instead, you head up the hill, bear left, you'll reach the crest and have these views.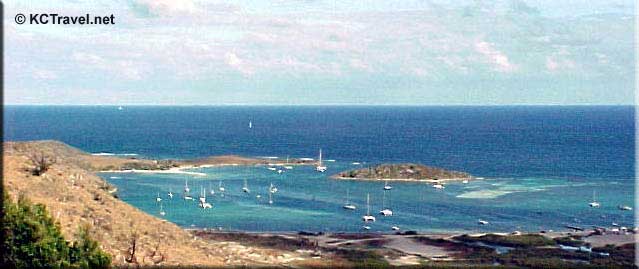 That is Little Cay in the center of the photo above and Pinel is the strip of land heading toward it. The hill blocks the northern end of Pinel so it looks as if it may not be an island.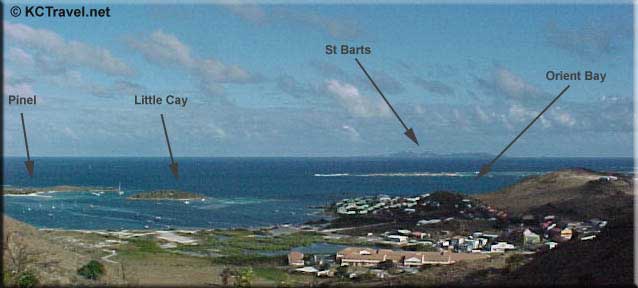 This is a longer view bringing Orient Beach and St Barts, 17 miles out, into the picture.
If you continue down to Anse Marcel, you'll find a very protected north facing harbor with a large beach. The main hotel here has undergone renovations and came out as a Raddisson.

If you are driving around the island, this is the one area you can't drive around. Cul de Sac is indeed a dead end. You must head back out and turn right to get to Grand Case or left to Orient Beach.
SXM-Info: Activities | Art | Beaches | Bookstore | Cars
Casinos | Hotels | Map | Marinas | Real estate
Restauranta | Services | Shopping | Travel Agents | Weddings