That evening we drove back to route 3 (the main east-west highway on the northeastern coast) and traveled three stop lights to Luquillo and headed to the beach called La Pared (The Wall), known for its surf. One of the more famous surfers hung his board on the wall and opened a minimalist restaurant here called Pasta y Pueblo. There's only three tables and no wine list. The menu has a few aps and a few specials introduced once in a while. We had some Serrano ham wrapped around Spanish manchego cheese (note the Rioja that we bought for about $10 and brought with us), some salad that was far from ordinary: some interesting veg, lightly sautéed with a drizzle of balsamic, some carrot slivers, and some guacamole, and a new that day special, the reef tortilla featuring chopped tomatoes and cheese on a layer of guacamole with a drizzle of balsamic.
The menu basically offers penne pasta and allows you to choose your preparation/sauce: Alfredo, carbonara, creamy pesto, garlic and oil, or a coconut rice, to which you add some protein, chicken, Churrasco, ahi tuna, mahi-mahi, or not: just veg. We chose a churrasco, some lovely salmon carbonara, grilled shrimp on cocnut rice, and a lovely piece of ahi tuna on penne with a creamy pesto sauce. You did notice that the chicken dinner is $9, churrasco is $10, veggies are $8, and the others are $13.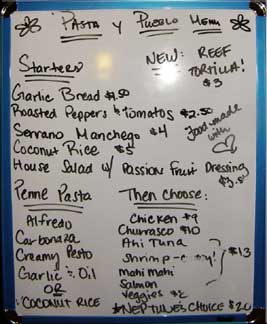 It's not elegant, but it's comfortable with friendly people. Below center is the churrasco, below right is the salmon. The next row down has the grilled shrimp, and the ahi tuna, with a final shot of Freddie, the surfer-chef.