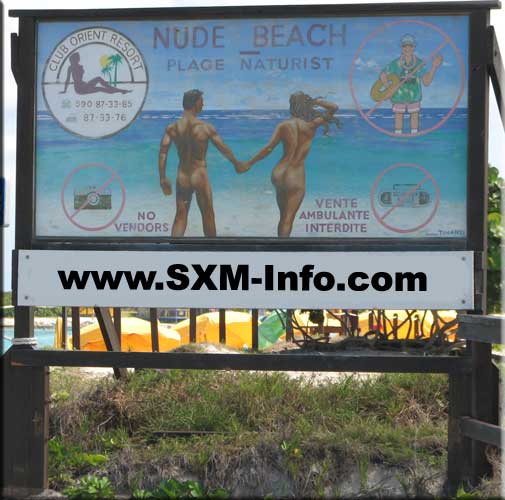 There are many reasons to visit Orient Beach, but it is Club Orient, the nudist resort, that brings out the socks and sandals set for a daily tour of the southeastern end of the beach. I'll confess that my first visit to Orient in 1993 was for this same reason, but as a steady diet of rum punch and piña coladas is lacking in certain essential vitamins and minerals, it becomes necessary to seek sustenance. Back then, there were a few choices, including dining au naturel at Club Orient.
Just two years earlier Kontiki Restaurant had opened a bit north Club Orient, just down the hill from Plantation Hotel, owners of the property. Coco followed by the end of the year at the far north and Bikini Beach, Waikiki, and Kakao Beach opened in early 1992 between these two. These restaurants call themselves the Five Stars of Orient, although La Playa, located amongst these five on grounds owned by Le Hoste Hotel, is just as nice. Newcomer Palm Beach Restaurant (photo below), even further north, is certainly the newest, and possibly the brightest star. They all have full kitchens turning out food that rivals the better restaurants on the island. Most have an oriental section on the menu, with either Thai or sushi available at almost all. These establishments generally have beach chairs and umbrellas, boutiques, snack bars, spas, and massage therapists. Some even have small swimming pools and second story dining with better views that include the neighboring islands of Pinel, Green Cay, and Tintamarre.
I've been told that Pedro's existed in a rather rudimentary format in the early days and by high season in 94/95 there were several simpler establishments filling the space between Kontiki and Club Orient.