| | | | | |
| --- | --- | --- | --- | --- |
| Simpson Bay | Restaurants | Hotels | Other | SXM Map |
Simpson Bay Feature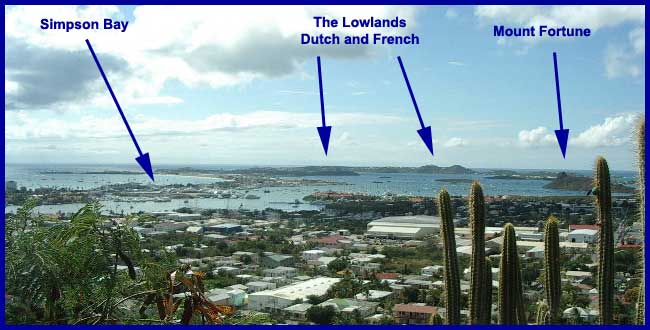 This shot was taken from the Cakehouse Road shortcut from Philipsburg to Cole Bay. All of Cole Bay is in the foreground and Simpson Bay is on the left. Most photos will enlarge, if clicked. Use your back button to return.
---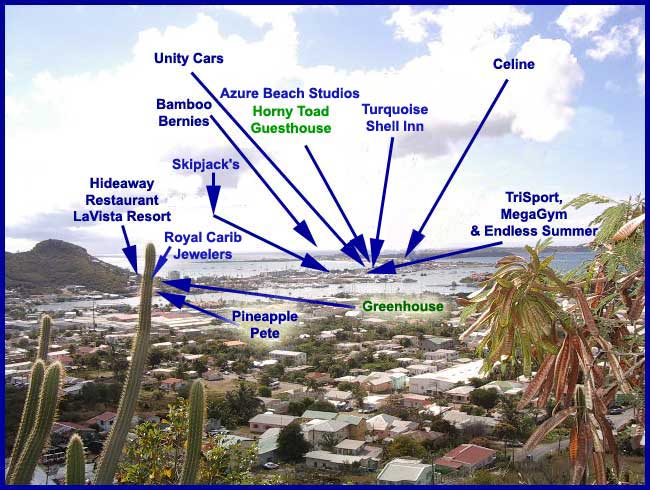 This shot was taken from the same location, but zoomed in a bit on Simpson Bay. These people made this feature possible.
---
| | |
| --- | --- |
| | Simpson Bay has one of the longest beaches with the least development on the island. On the other side of this spit of land is the lagoon. In between is plenty of activity. |
---

This Simpson Bay Lagoon panoramic watercolor print was one of the most popular prints on the island. Of course who hasn't been sitting in traffic looking at this magnificent view? Jill Alexander lived on the island for several years but has now returned to Canada.
---
| | |
| --- | --- |
| | The western edge of Simpson Bay is essentially Mullet to the north, Maho in the center, and Beacon Hill on the south. Mullet is still closed from Hurricane Luis in 95, but Maho is thriving, even building new hotel/timeshare rooms. Moreover, there are many restaurants and shops. Bajatzu Steakhouse has fine steaks and more. Moulin Fou is a fine French restaurant with Chef Q, one of the best sushi chefs on the island. La Rosa Too and Pizza Pasta cover Italian cuisine, high to low, respectively. Bamboo also does sushi. 3 Amigos is a Mexican restaurant. There's a Subway. For entertainment there are a couple clubs, a strip club, and a piano bar. Cheri's is here with its show containing large men in drag as large women. They say you have to go at least once and many go back every year. There's more, but they change frequently. And that brings us to the new airport terminal, one of the largest and nicest in the Caribbean, |
---
---
| | |
| --- | --- |
| | Right next door is the Azure Beach Studios offering the same great sunset views and access to Simpson Bay Beach. |
---
| | |
| --- | --- |
| | Unity Car Rental is located near the Dutch bridge, but will meet you at the airport. |
---

Here is a panorama to the east, from Pelican Resort to Royal Palm.
Click the photo for enlarged views.

Here is a panorama to the west, from Mary's Boon, across the Airport construction to Beacon Hill.
Click the photo for enlarged views.
---
| | |
| --- | --- |
| | Marci's Mega Gym 2000 has lots of cardio equipment, many machines, free weights, and classes that include yoga, dance, and more. They are above Tri Sport, just west of the Dutch bridge. TriSport has kayak and bike rentals. |
---
---
| | | |
| --- | --- | --- |
| | There's lots more dining in Simpson Bay. Starting at the bridge and heading east we find Pizza Galley with the best pizzas on the island. SkipJack's Restaurant was voted best new restaurant on the island, partially because of this great lagoon view, partially because of great, fresh seafood. | |
---
| | |
| --- | --- |
| | Pineapple Pete regularly wins the best live music venue award, but also has great food and a sports bar out back on the lagoon. |
---
Celine Too, a motor cat, goes out for her Lagoon Pub Crawl several nights per week and is available for other charters as well. Random Wind is a smaller sailboat that goes out for daily sailing and snorkeling expeditions. The Random Wind empire includes a couple other boats, so take a look at their website for full details. The dolphin was spotted on one of their sails.
---
---
| | |
| --- | --- |
| | Pack Light Rentals supplies cell phones, snorkel gear, beach chairs, umbrellas, coolers, and more. As the airlines reduce baggage allowances and increase overweight fees it makes sense to pack light and travel easy. Pack Light Rentals is located in this area, but it doesn't matter as they deliver whatever you want to you at the airport or your hotel. That's right, no hassle heading in the wrong direction to get whatever you have ordered. They will deliver to you. |
---
If you are driving around the island, the next location to the east is Philipsburg or head around the lagoon clockwise through Maho Bay and Mullet Bay to Cupecoy and the Lowlands or head counter-clockwise to Marigot.