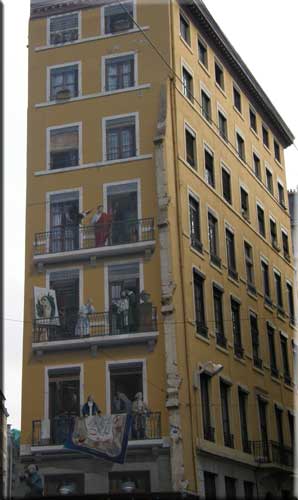 This is an apartment building with a trompe l'oeil mural on it's narrow edge. Lyon has several of these, as you can see on this site. The most famous is the Fresque des Lyonnaise, a fresco on the side of another apartment building with famous people from Lyon on every balcony. There is even a guide to tell you who is on the wall.
It was a mere 80 mile drive from Mercurey to Lyon, but a world of difference. Lyon is the second largest city in France, an industrial hub, an educational center, the center of a vast amount of farming, and awash in a sea of great wine. The city has almost a half million people and the built up area surrounding it has a million more. We were staying at the Grand Hotel des Terreaux, near the confluence of the Rhone and Saone rivers. Where we were, the two rivers were flowing essentially southward, about a quarter mile apart. In another mile, the rivers join and the Rhone flows on to through Avignon and Arles to the Camargue, the salt flats just outside Marseille.
| | | |
| --- | --- | --- |
| We found our hotel quite easily with the Garmin and the front desk directed us to a nearby underground parking lot. It seems obscene to pay about $70 per day for a car and then $40 to park it for two days. Add in the fact that this was the most expensive lodging on the trip (at about $200 per day per couple) and this was an expensive couple days - but fun. We parked the car and emerged into La Place des Terreaux, essentially the center of Lyon. The Hotel de Ville (which is city hall, not a hotel) is here as is the Museum of Fine Arts. There is a large fountain in the center of the Place and water jets put on a performance nightly. | | |
Given the food and wine nearby, it's no wonder that some of the greatest chefs in France are here. In their shadow are many restaurants serving copious quantities of very tasty food at spectacular prices. The liver may come from chickens, not force-fed geese and the filet mignon gives way to faux-filet, but the quality of ingredients is high and the ability of the chef is higher still. Tables are generally cramped and service may stress speed rather than comfort such that they make up in volume what they lose on cost. Nonetheless, we were never hurried out of a restaurant. Many of these restaurants in Lyon have banded together to form a group called the Authentic Bouchons of Lyon. On our first night we walked to Chez Hugon for a fine three course meal at $38. Vast quantities of Cotes du Rhone washed it down. The next evening after a vigorous tour of the fine arts museum, we had an even better meal at Deux Places for about $40 with a gallon or so of Crozes-Hermitage. Altogether, we were paying about $60 per person for more food and drink than anyone needed, but there were no complaints.
We managed picnic lunches and snacks either in our hotel room or in city parks.