SXM-Info
Online Bookstore
Jump to: Food, Wine, and Cooking | History | Humor | Investment | Island | Mysteries | Novels | Science & Nature | Travel | CDs
Search all of Amazon | SXM-Info Home Page
Travel Books
---
To purchase any of these books, just click on the title. Via the miracle of cyberspace, you will be transported to Amazon's cyberstore for a more detailed description of the book and instructions for purchase.
---
Guide to Spain 2015 by Rick Steves ($8 Kindle or $17 hardcover) Rick Steves has spent 100 days every year since 1973 exploring Europe. Rick produces a public television series (Rick Steves' Europe), a public radio show (Travel with Rick Steves), and an app and podcast (Rick Steves Audio Europe); writes a bestselling series of guidebooks and a nationally syndicated newspaper column; organizes guided tours that take thousands of travelers to Europe annually; and offers an information-packed website (RickSteves.com). With the help of his hardworking staff of 80 at Europe Through the Back Door in Edmonds, Washington, just north of Seattle - Rick's mission is to make European travel fun, affordable, and culturally broadening for Americans.

We used this in conjunction with the Michelin Guide to take us on an 18 day circumnavigation of Spain and Portugal. This is great on sites and walking tours while the Michelin covers all cities looking for restaurants and hotels.
---
| | |
| --- | --- |
| | A Beach Less Traveled by John Berglund ($10 Kindle or $17 hardcover) We bumped into John and Cyndi Berlund as we walked out of the parking lot in Grand Case one Friday night. This is the story of their move to Grand Case and founding of Tijon Perfumery. The remarkable story of a happily married couple who abandoned the corporate rat race to open a perfumery and create their own custom lines of fragrances in the French Caribbean What originated in a family vacation on the beach eventually became an unlikely but thriving business,a perfumery on the French-Dutch island of Saint Martin. Though he chose a career in law, John Berglund's passion lay in the chemistry sets of his youth and his lifelong fascination with perfume. Berglund eventually built a full-fledged lab in the basement of his home in Atlanta, where he spent countless hours of free time experimenting with new concoctions. He began to dream of opening a perfumery in a tranquil island paradise and ultimately set out to make it happen no matter what. Berglund's account of his Caribbean adventure is a fun-filled, factual tale of conflicts, contrasts, and celebrations. As he and his wife, Cyndi, embed themselves in the eccentric French-side community of Grand Case, they learn incredible lessons about business, success, and themselves. Their story may just inspire others, too, to follow in their footsteps, trading business casual attire for a pair of shorts and flip-flops. |
---
Books by Bill Bryson

Bill Bryson was born in Des Moines, Iowa. For twenty years he lived in England, where he worked for the Times and the Independent, and wrote for most major British and American publications. His books include travel memoirs (Neither Here Nor There; The Lost Continent; Notes from a Small Island) and books on language (The Mother Tongue; Made in America). His account of his attempts to walk the Appalachian Trail, A Walk in the Woods, was a huge New York Times bestseller. He lives in Hanover, New Hampshire, with his wife and his four children.
| | | |
| --- | --- | --- |
| At Home: A Short History of Private Life by Bill Bryson - about $14 for a paperback - From Amazon (Lynette Mong): Bill Bryson turns his attention from science to society in his authoritative history of domesticity, At Home: A Short History of Private Life. While walking through his own home, a former Church of England rectory built in the 19th century, Bryson reconstructs the fascinating history of the household, room by room. With waggish humor and a knack for unearthing the extraordinary stories behind the seemingly commonplace, he examines how everyday items--things like ice, cookbooks, glass windows, and salt and pepper--transformed the way people lived, and how houses evolved around these new commodities. "Houses are really quite odd things," Bryson writes, and, luckily for us, he is a writer who thrives on oddities. He gracefully draws connections between an eclectic array of events that have affected home life, covering everything from the relationship between cholera outbreaks and modern landscaping, to toxic makeup, highly flammable hoopskirts, and other unexpected hazards of fashion. Fans of Bryson's travel writing will find plenty to love here; his keen eye for detail and delightfully wry wit emerge in the most unlikely places, making At Home an engrossing journey through history, without ever leaving the house. | &nbsp | |
| | | |
| --- | --- | --- |
| I'm a Stranger Here Myself: Notes on Returning to America After 20 Years Away by Bill Bryson - about $11 for a paperback - From Amazon (Melissa Rossi): In the world of contemporary travel writing, Bill Bryson often emerges as a major contender for King of Crankiness. Granted, he complains well and humorously, but between every line of his travel books you can almost hear the tinny echo: "I wanna go home, I miss my wife." Happily, I'm a Stranger Here Myself unleashes a new Bryson, more contemplative and less likely to toss daggers. After two decades in England, he's relocated to Hanover, New Hampshire. In this collection (drawn from dispatches for London's Night & Day magazine), he's writing from home, in close proximity to wife and family. We find a happy marriage between humor and reflection as he assesses life both in New England and in the contemporary United States. With the telescopic perspective of one who's stepped out of the American mainstream and come back after 20 years, Bryson aptly holds the mirror up to U.S. culture, capturing its absurdities--such as hotlines for dental floss, the cult of the lawsuit, and strange American injuries such as those sustained from pillows and beds. "In the time it takes you to read this," he writes, "four of my fellow citizens will somehow manage to be wounded by their bedding." | &nbsp | |
The book also reflects the sweet side of small-town USA, with columns about post-office parties, dining at diners, and Thanksgiving--when the only goal is to "get your stomach into the approximate shape of a beach ball" and be grateful. And grateful we are that the previously peripatetic Bryson has returned to the U.S., turning his eye to this land--while living at home and near his wife. Under her benevolent influence, he entertains through thoughtful insights, not sarcastic stabs
| | | |
| --- | --- | --- |
| A Walk in the Woods: Rediscovering America on the Appalachian Trail by Bill Bryson - about $8 for a paperback - From Publishers Weekly: Returning to the U.S. after 20 years in England, Iowa native Bryson decided to reconnect with his mother country by hiking the length of the 2100-mile Appalachian Trail. Awed by merely the camping section of his local sporting goods store, he nevertheless plunges into the wilderness and emerges with a consistently comical account of a neophyte woodsman learning hard lessons about self-reliance. Bryson (The Lost Continent) carries himself in an irresistibly bewildered manner, accepting each new calamity with wonder and hilarity. He reviews the characters of the AT (as the trail is called), from a pack of incompetent Boy Scouts to a perpetually lost geezer named Chicken John. Most amusing is his cranky, crude and inestimable companion, Katz, a reformed substance abuser who once had single-handedly "become, in effect, Iowa's drug culture." The uneasy but always entertaining relationship between Bryson and Katz keeps their walk interesting, even during the flat stretches. Bryson completes the trail as planned, and he records the misadventure with insight and elegance. He is a popular author in Britain and his impeccably graceful and witty style deserves a large American audience as well. | &nbsp | |
---
| | | |
| --- | --- | --- |
| | Chickens, Mules and Two Old Fools ($4 Kindle, $12 paperback) and Two Old Fools - Olé ($4 Kindle, $14 paperback), essentially about the adventures of Vicky and Joe retiring to Spain. Perhaps if they had known what relocating to a tiny village, tucked in the Alpujarra mountains, would really be like, they might have hesitated. They have no idea of the culture shock in store. No idea they will become reluctant chicken farmers and own the most dangerous cockerel in Spain. No idea they will be befriended by an 85 year old spliff-smoking sex-kitten, help capture a vulture, or be rescued by a mule. Life is never dull as they embark on their Five Year Plan. At the end of five years they must decide. Will they stay, or return to the relative sanity of England? Vicky and Joe's story is packed with irreverent humor, animals, eccentric characters and sunshine. | |
---
| | | |
| --- | --- | --- |
| 1,000 Places to See Before You Die, updated ed. (2010) by Patricia Shultz - about $14 for a paperback - From Publishers Weekly: This hefty volume reminds vacationers that hot tourist spots are small percentage of what's worth seeing out there. A quick sampling: Venice's Cipriani Hotel; California's Monterey Peninsula; the Lewis and Clark Trail in Oregon; the Great Wall of China; Robert Louis Stevenson's home in Western Samoa; and the Alhambra in Andalusia, Spain. Veteran travel guide writer Schultz divides the book geographically, presenting a little less than a page on each location. Each entry lists exactly where to find the spot (e.g. Moorea is located "12 miles/19 km northwest of Tahiti; 10 minutes by air, 1 hour by boat") and when to go (e.g., if you want to check out The Complete Fly Fisher hotel in Montana, "May and Sept.-Oct. offer productive angling in a solitary setting"). This is an excellent resource for the intrepid traveler. | &nbsp | |
---
The Reluctant Tuscan by Phil Doran - about $8 for a not perfect hardcover or $10 for a paperback - From Publishers Weekly: Readers of Doran's amusing memoir about relocating from Los Angeles to the tiny Tuscan town of Cambione must first suspend their disbelief that a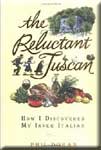 person in his right mind would actively resist such an opportunity. But resist Doran does and when his sculptor wife buys a ramshackle, 300-year-old house there on a whim, she must drag him kicking and screaming out of his high-stress, low-reward life as a Hollywood writer and producer (among his hits: Who's the Boss? and The Wonder Years). What follows is rather predictable: the house turns out to be in even worse shape than anyone imagined, and the construction crew has no discernable pattern when it comes to showing up for work. Lines like "Things happen in Italy that don't happen anywhere else on earth. A magical friendliness is spread all over the place like pixie dust" don't do much to distinguish Doran's story from other books of its ilk, but the author's grudging optimism and dead-on ear for dialogue certainly do. Doran's brutally funny accounts of tangles with everyone (including the mayor, the police, an inefficient landlord and Doran's long-suffering wife) are enough to keep readers hooked until the last page. It may not be a surprise that he lives happily ever after, but how he gets there is certainly worth the ride.
---
Michelin Red Guide 2012 France: Restaurants & Hotels - A great guide to the best restaurants and hotels in France. We used the 2008 guide in 2008 and it worked quite well on our visit in 2012.The link now goes to the 2012 guide but the 2013 guide will be out in April 2013.

Caribbean by James A. Michener - The Cleveland Plain Dealer said: Master storyteller James A. Michener sweeps us off to the Caribbean, with a magnificent novel that captures the eternal allure of that glittering string of islands and their tumultuous history. Beginning in 1310 and continuing through Columbus's arrival and the bloody slave revolt of Haiti to the rise of Castro, CARIBBEAN carries us through 700 dramatic years in a tale teeming with revolution and romance, slavery and superstition, heartfelt characters and thunderous destinies.
---
We used the GARMIN 010-00621-31 Nuvi 260 Travel Assistant on a trip from upstate NY to central CT to pick up construction supplies. We knew how to get close to where we were going from years of experience, but the last few miles to the supply house were a mystery. The Garmin found our usual route and as it was approaching lunch, we asked it for nearby restaurants. We inserted one as a waypoint, had a fine lunch, and proceeded on to our destination. On the way back, we asked for supermarkets and did a bit of grocery shopping while we were out. It worked fine throughout and this size was easy to use. The 260 has Text to Speech and comes with maps for the US and Canada, a case, an auto charger, and a suction cup to attach the device to the window.

The Garmin nuvi 370 3.5-Inch Portable GPS Navigator with Bluetooth, Text-to-Speech, North American & European Maps adds maps for Europe and we tested them in Belgium and all over France in both car and pedestrian mode. It worked fine, acquiring satellites and giving us directions.
---
The Colombo Bay by Richard Pollak - Amazon.com says: Container ships lack the literary appeal of other, more romantic vessels, such as pirate ships and sail boats, and as a result their stories aren't often told. But as Richard Pollak demonstrates in The Colombo Bay, there's plenty to talk about. After all, a quick glance around your living room probably reveals numerous items imported from overseas and container ships are how they got to you. In 2001, after securing passage as an observer aboard a massive container ship bound from Hong Kong to New York via the Suez Canal, Pollak was just about to begin his journey when the 9/11 attacks struck, throwing the world into tremendous uncertainty. Pollak chose to go ahead with the trip but his trepidation serves as an appropriate undercurrent to the uncertainty that the crews of these ships face every day. Though the ships are enormous and strong, they live under a constant cloud of potential disaster. Piracy, far from being the stuff of old movies, is very much alive in the modern world, often with container ships being the victims. Storms, the threat of running aground, stowaways, and the possibility of being an unwitting accomplice to global terrorism are always top of mind for the people operating these massive, and massively important, pieces of machinery.
Pollak approaches his journey with a dogged curiosity and a refreshing dash of naivité that, combined with his skilled storytelling, make for a compelling read. He finds the accommodations more civilized than one might expect from such a utilitarian craft and a crew that, while they are used to the hardships of nautical life, are real people trying to cope with a profession that keeps them from their families for months at a time. Aside from a near miss with Hurricane Karen off the North American coast, nothing much dramatic happens during Pollak's ride on the Colombo Bay. But that inactivity, coupled with the constant possibility of palpable danger, provides an accurate depiction of life aboard a container ship. --John Moe
---
A French Affair: The Paris Beat, 1965-1998 by Mary Blume
- Amazon.com says: Even the most dedicated expat rarely manages to completely fit into an adopted foreign culture. It's precisely this quality that allows American Mary Blume to so thoughtfully observe and record Paris, the city that's served as her home for over three decades, though its ways may still mystify her. In A French Affair--a collection of essays published in the International Herald Tribune--the columnist deftly captures the quirks and changes that are visible only to those who live in France, though they may be most interesting to those who don't.
In these commentaries--ranging from the opening of invention conventions to the mire of bureaucracy that accompanies the naming of a street (which may only be named after dead people, preferably deceased for at least 15 years)--Blume unveils the French quest for perfection in a world that's perfectly imperfect because of French design, and how the logic of Descartes's descendents--regarding such points as grammar--is sometimes extreme to the point of being irrational. She captures trends, from the fashionable la ratte potato to the metric system. She records notable moments---the death of a designer, the opening of a charm school for men--and notable people, such as Renoir's jet-setting son and Simone de Beauvoir. Of course, this being a book about France, Blume occasionally delves into food, be it the inner workings of a soup kitchen or the launching of cooking classes taught by royalty. With these witty and insightful short snippets, Blume provides small, crystal-clear windows into true French life--a rare accomplishment from an expatriate or a native. --Melissa Rossi
---
Holidays in Hell by P. J. O'Rourke
- It's about 20 years old, but still has a few valid comments. Amazon.com says "No doubt about it: P. J. O'Rourke has a bizarre sense of fun. "What I've ... been," he writes in his introduction to Holidays in Hell "is a Trouble Tourist--going to see insurrections, stupidities, political crises, civil disturbances and other human folly because ... because it's fun." Forget Hawaii or the Poconos--O'Rourke gets his jollies in places like war-torn Lebanon where he is greeted at the border by a gun barrel in his face, or Seoul, just in time for election-day violence. Wherever he goes, however, O'Rourke takes his quirky sense of humor, laser eye for detail, and artful way with words: a Philippine army officer is "powerful-looking in a short, compressed way, like an attack hamster," and the Syrian army is described as having "dozens of silly hats, mostly berets in yellow, orange and shocking pink, but also tiny pillbox chapeaux.... The paratroopers wear shiny gold jumpsuits and crack commando units have skin-tight fatigues in a camouflage pattern of violet, peach, flesh tone and vermilion on a background of vivid purple. This must give excellent protective coloration in, say, a room full of Palm Beach divorcees in Lily Pulitzer dresses.
O'Rourke's flip, sarcastic style isn't for everyone, of course; the concept that anyone could find sightseeing in the Beirut or El Salvador of the 1980s fun might prove offensive to more than a few readers right off the bat. But love him or hate him, P. J. O'Rourke knows how to tell a good story, and if you like your travel writing laced with more than a little cynicism, Holidays in Hell could be just the book you've been looking for."
---
French Lessons by Peter Mayle
- Twelve chapters recounting Mayle's journeys to twelve food or wine festivals throughout France. The book amusingly answers many questions, such as why a five pound Poulet de Bresse costs $20 in the market and how one should eat frog legs, or indeed, if one should.
---
French or Foe? : Getting the Most Out of Visiting, Living and Working in France by Polly Platt
- This book created some heated discussions. Amazon says: Let's face it: the French have gotten a bad rap. Mention that you're considering a trip to France and everyone will warn you about rude waiters, supercilious shopkeepers, and snooty concierges who won't give you the time of day--and worse, pretend not to understand your high-school French. Not so, says Polly Platt, author of French or Foe?; "The French are generous, exhilarating friends," but they are different--wonderfully so. The trick to getting along in France is understanding the culture and learning to accept it on French terms instead of your own. Though the book is designed primarily for people who will be living or working in France for extended periods, the lessons Platt teaches about manners, attitudes, and culture are invaluable for even those visitors just passing through.
---
Around the World in 20 Days : The Story of Our History-Making Balloon Flight by Bertrand Piccard, Brian Jones - About $12 - It's a different travel plan and a different way to travel, but it's an interesting read. On the 9th of March, 1999, eight days into their flight, Brian Jones and Bertrand Piccard were approaching Myanmar's air space. They had the following exchange with an air-traffic controller:
Air traffic control: Hotel Bravo-Bravo Romeo Alpha, what is your departure point and destination? Brian Jones: Departure point, Chateau d'Oex, Switzerland. Destination, somewhere in northern Africa.
Air traffic control, after several seconds' silence: If you're going from Switzerland to northern Africa, what in hell are you doing in Myanmar?
Twelve days later the Breitling Orbiter 3 made a hard but safe landing in the Egyptian desert. Their successful circumnavigation, the first, put Piccard and Jones into the record books for distance (25,361 miles) and duration (477.47 hours aloft). Around the World in 20 Days tells the story of their flight, and the obstacles--both natural and manmade--they had to overcome. Struggling to get the balloon back into the jet stream when they had strayed too far south was one thing, but negotiating with dozens of countries for the right to fly in their air space was just as challenging. Even choosing a landing site was problematic: "Mali is mainly desert, and has lions, leopards etc.," while the Nigerians were hesitant, the Libyans wouldn't allow rescue planes to be brought in, and Egypt gave the balloon permission to overfly its borders but not to land. On the ground, the team's support system spelled out the situation to the Egyptians: "Listen--the balloon is running out of fuel. If the pilot doesn't have permission to land, he'll have to declare a full emergency, and you'll be obliged by the international rules to deal with it." The Egyptian controller replied, "In that case, I give you permission."
---
Man Flies : The Story of Alberto Santos-Dumont, Master of the Balloon, Conqueror of the Air by Nancy Winters - About $23, but much less used - If you fly down, like most of us, this is an interesting twist on the Wright Brothers. From Book News: Tells how wealthy Brazilian heir Santos-Dumont (1873-1932) came of age in Paris determined to live out the novels of Jules Verne by developing human flight. Describes how his airships gradually improved so that he was counted brilliant as well as dashing in the world's capitals until he learned that the Wright brothers had been there first with the most. Includes many old photographs, a chronology, and a glossary
---
Little Museums : Over 1,000 Small (And Not-So-Small) American Showplaces by Lynne Arany and Archie Hobson
This state-by-state listing of weird museums will help break the tedium of long drives. You could live in Fairbanks, Alaska and grow tired of the the Dog Mushing Museum during a long winter, so a quick trip Palo Alto to visit the Barbie Hall of Fame would be just the ticket. You may find the Museum of Ordinary People in Huntsboro, Alabama a bit boring, but surely the 24 Hour Church of Elvis in Portland, Arizona would thrill and enlighten. To aid in these quests, the museums are cross referenced by categories. You can buy it for about $15. Don't leave home without it.
---
World Guide to Nude Beaches & Resorts by Lee Baxandall
This is the best source for nude beaches the world over. I'd say it was on my desk, but I can't find it because somebody borrowed it.
---
North American Guide to Nude Recreation from the American Sunbathing Assn
Another choice, especially for North America.
---
Hot Springs and Hot Pools of the Southwest, 1996 by Marjorie Gersh-Young
This is more like it, but still, a fine beach in the caribbean is better.
---
These aren't exactly travel books, but books by travellers:

---
Gargantua and Pantagruel by Francois Rabelais, translated by Burton Raffel This is the ribald satire that ends with our heroes seeking the Oracle of the Holy Bottle, whose advice is, "Drink."
---
Innocents Abroad or the New Pilgrims Progress: Being Some Account of the Steamship Quaker City's Pleasure Excursion to Europe and the Holy Land by Mark Twain
This was written early in Twain's career before he came to believe everything he said about himself.
---
The Journals of Lewis and Clark by Meriwether Lewis, Bernard Devoto (Editor), William Clark
If you liked the PBS series, read the book.
---